Painting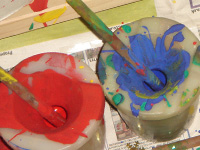 Activity for children 0-2 years old.
Equipment needed: paint, card and a pen.
Paint babies hands and feet and watch them explore them. Babies will reach out to touch their hands and feet. Use a piece of card to print baby's hands and feet on as a reminder of your activity. This is a popular activity at the Red House and visiting parents often tell us how cute the hand and feet prints are on our collages. We have seen babies crawling to their painted handprints which are blue tacked to the wall, offering their hand up to match the print they have made. This really shows how they are developing and I am sure you will take pleasure from observing this yourselves.
This activity will help your baby to watch and explore hands and feet and works towards their physical development.