Safe & Sound
We fully appreciate that a parent's primary focus in choosing any childcare is the welfare of their child. At the Red House we make every effort to ensure our nursery is a safe and positive place for children.
We work within the government guidelines for child to staff ratio and seek advice from Ofsted, the government regulators for childcare and Bolton Council's Early Years team when needed.
The Red House provides a spacious environment in each of our rooms to ensure children feel comfortable in their surroundings.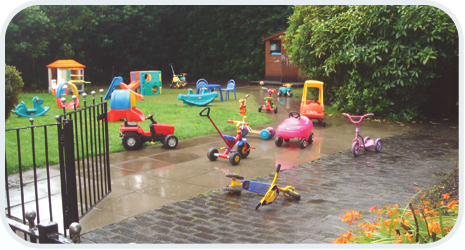 Our outdoor play area is surrounded by walls and fencing, however has the added bonus of being surrounded by woodland and bushes. We encourage exploration and exercise when children play outside. We even take walks to the Blue Flag awarded Moss Bank Park for it's cleanliness, during which we ensure we follow an appropriate staff to child ratio.
Fresh fruit and vegetables are provided for the children in the meals we freshly prepare. We ensure the recommended five a day of fresh fruit and vegetables is catered for in the variety we provide. We have a wonderful cook who comes up with some innovative ways to encourage children to eat vegetables, through food presentation and sometimes by disguising them by blending them with other food. Our menu is displayed every day and the weekly menu is available for parents to take away. Our cook is open to menu suggestions from parents and is flexible to ensure we can cater for specific dietary needs. All children's meals are prepared freshly on site every day.
Meals are served with friends in a sociable environment where children are encouraged to calmly talk to each other. Our carers encourage children to eat their meals with suggestions to the boys that it will make them big and strong and for the girls a suggestion that it helps them with sparkly skin and sparkly eyes.
Milk is served at mealtimes and children are taught why how it helps with strong bones and teeth.
Drinking water is on offer throughout the day and the older children have access help themselves to this.
All of the nursery carers and staff are first aid trained and qualified.
At meal times, we ensure children learn about the importance of washing their hands. We encourage table manners and help them to understand the importance of concentrating during meal times. Children are also encouraged to speak with each other during meal times to feel part of a community and social wellbeing.
Hearing "please" and "thank you" are common at the Red House and the carers set the example of being just as polite with the children and between each other. Sharing and respecting each other are common ways to help children develop positive relationships with their friends and carers.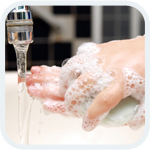 We help with toilet training and the importance of hand washing after the toilet is encouraged from the beginning.
It is essential we help children at the Red House understand boundaries, risks and safety and we do this by pointing out dangers and outcomes in specific circumstances.
All of our staff make every effort to form positive relationships with parents. We do want to know if you have any problems or worries about your child, or if you need our help, equally we want to know if you have something exciting to tell us about your child, or if they do something new or interesting.
Each child is assigned a key carer giving parents some confidence that even though we have a team of carers looking after your child, we also have an individual responsible for monitoring the development of your child.
We take pride in ensuring love care and attention go hand in hand. Other parents have told us they can see this through our approach. The Red House makes every effort to assure all parents on the welfare of their child.