Spaghetti play on a tray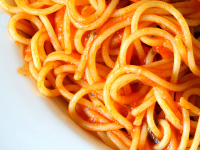 Activity for children under 2 years.
Equipment needed: tray, tin of spaghetti, spoons and cups.
Simply pour a tin of spaghetti onto the tray and let your baby explore using hands, spoons and cups. We have some fantastic photos we've been able to give to parents of their own child when they've been involved in messy play. We've seen parents in fits of laughter and astonishment at what their children have been up to during the day when we show them the results of this activity.
Babies will use their senses during the activity by touching, tasting, smelling, seeing whilst they play. Babies can use the cups to fill and empty with spaghetti.
Babies will develop their skills, explore objects and materials with hands and mouth and become absorbed in putting objects in and out of containers.