Music Session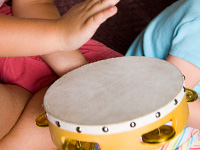 Activity for children under 2 years.
We have a music teacher from Bolton Music school who sporadically attends the Red House to train our staff, but also get involved with the children to observe how well we are doing in our music lessons. There are varied musical activities we provide, these are examples of things to try at home;
Equipment needed: pans, plastic cups, card, cello tape, radio.
Make a music session for babies to make music using household items. Babies can bang, shake and dance to the music. We know it's always a pleasure to see your baby dancing and we see the babies at the Red House copying their friends their own age as well as some of their older friends from our toddlers group. I am sure you will see your baby copying some of the simple nevertheless enjoyable and in time with the beat to your baby.
This activity will help your baby to anticipate repeated sounds and actions and explore the space around them through movements of hands and feet and by rolling.