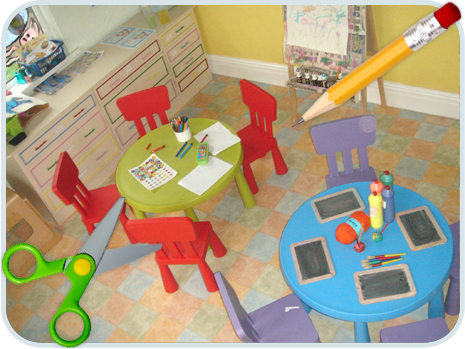 Our Pre School Rooms
We have three Pre School rooms, we have classroom type environment with a teddy bear theme, where we get involved in counting, word association, measuring, drawing and colouring cutting out and similar pre school type activities. We also have a dedicated Pre School Art and messy room where painting, sand and water play, model making and such like take place. We also have a room dedicated to Pre School for floor play with a Winnie the Pooh theme and in here we have story time, singing, dancing and music lessons. Some of our activities in Pre School include:
Singing
Story time
Cars, Trucks and Fire Engines
Dressing up
Dolls Houses
Railway making
Sand and Water
Model Making
Painting
Counting
Adding and taking away using objects
Reading
Word Recognition
Collages
Measuring
Construction
Bikes and Scooters outside
Hide and Seek outside
Ball Games Outside
Giant Snakes and Ladders Outside
Chalk drawing outside
Nature activities and observation outside
We follow the Early Years Foundation framework which is the new nursery curriculum for our activities. We continue to ensure parents are encouraged to be involved. Parents often make suggestions on our suggestions board for activities. Each child's individual development folder is available to their respective parent at any time and this includes notes on their child's development, observations from carers, their child's work as well as photographs of their child involved in some of the activities. We welcome parents to stay for 10 minutes every now and again to talk and interact with their child and also be introduced to some of their friends. Some parents have brought in props according to the topic we are following that week. Parents are often amazed at the transition from being shy to becoming self confident and able to communicate what they have been up to throughout the day. We recognise each child is unique and an individual and there are many children who start our nursery who are already self confident. We ensure all children are involved and that all of the children become friends. Our carers encourage every child, however it really gives us pleasure to see children encouraging and talking to each other. Some of the comments we have recorded from children in Pre School throughout their play time with us are: "ewwwww spaghetti with glitter is gooey between my fingers" "hehehe it feels slimy" "no it feels squidgy" "you can't stand here unless you have an apron on" "I want goldilocks and the three bears story please" during sand play…."mmmm I'm making a cake for my dolly" "the felt tips work because we remembered to put the lids on" "sshhh I'm colouring my hand in" "we've got to wash our hands before lunch" "I had chocolate cake for my dinner, mmmm" "I've made a biscuit for my mummy" "I've eaten the biscuit I made for my mummy!" "Mummy I've seen some animals at the farm" "I'm pretending to be an aeroplane" "I can go faster on my bike"
---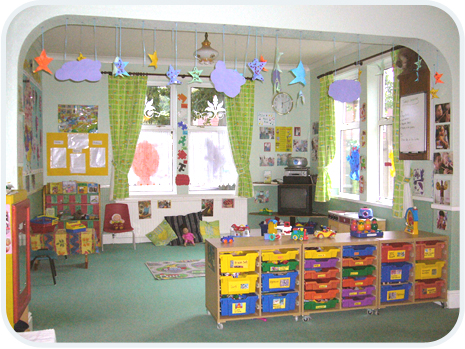 Our Toddler Rooms
We have 2 toddler rooms at the Red House. They are split into an art and messy room for wet and messy activities and a room used for floor play and table top activities. The rooms are dedicated for toddler activities and for children aged 2-3. Some of the activities we get up to in our toddler rooms include:
Singing lessons
Painting
Play dough
Story time – reading our favourite story of the week, which the children are encouraged to get involved in
Dancing
Musical instruments
Sand Play and Water Play
Jigsaws
Collage making
Giant Snakes and Ladders
Stickle Bricks and Duplo Bricks
Trucks and Cars
Counting
Dolls and dolls accessories
Role Play
Size association (big and small)
Dressing Up
Hide and Seek outside
Cars and Bikes outside
Tunnels and tents outside
Chalk drawing outside
Slides and Seesaws Outside
We focus the activities around the Early Year Foundation Stage framework, which is the new curriculum for nurseries. We also ensure indoor activities are taken to the outside  environment where possible. We encourage communication, speech and manners at this stage and parents have commented how quickly their child's speech and sentences improve each day. Thank you and please are encouraged and the carers act as role models to the children, by ensuring they are courteous and pleasant when communicating back to the children. We always ensure the children are familiar with all of our staff and they know them all by their first name. We encourage counting and try to make this fun for example, asking how many bricks there are in the tower they've built. They don't always get this right at this stage, however we really feel we're achieving something when we see this developing and becoming more accurate. We see children associate sizes and shapes. We also enourage parents to help with this at home and the feedback we have is often amusing when we're told a parent couldn't believe it when they asked for two pegs at home and they couldn't believe their child actually brought them two! Nappy training is always fun! Yes, we have quite a few accidents, however that's what we're here for. We ask parents to bring in some extra sets of clothes at this stage for obvious reasons. We see children at the Red House very quickly adapt and start to ask to go to the toilet and eventually want to go on their own without having a carer with them. We take real pleasure in seeing children in our toddler room encourage each other and equally copy each other. If one child is making car out of play dough they often all decide to, often with each child wanting a bigger one than the last! The individual development files of each child are available to parents throughout their time in the toddler rooms and these include examples of their work, photograph's and observations from carers. Parents often comment or ask questions on how they can help and have input to the development files themselves and this is actually encouraged by our carers. Photo's of the children are continually on display throughout the toddler room's alongside the children's artwork. We have an activity suggestion board on the entrance to the toddler rooms where parents often leave their idea of an activity which may help in the topic of the week. Some of the sweet comments recorded from children in our toddler rooms include: "The play dough is sticky" "I making a cake" even though we make real cakes we've heard this in the kitchen role play later on in the day "It's tidy up time" "I'm reading a story" parents have commented they are often read to at home with an open book with a loosely followed story their child has heard at nursery. "I want to sing twinkle twinkle little star" "It's my mummy" "Can we go outside please?" "My turn now" "We've got to be quiet baby's sleeping" often when playing with the dolls "I look like Bob the Builder" "My car going fast" "I need a wee" "Dinner time now?" "You have to wash your hands first" We hear this from children talking to each other just before lunch
---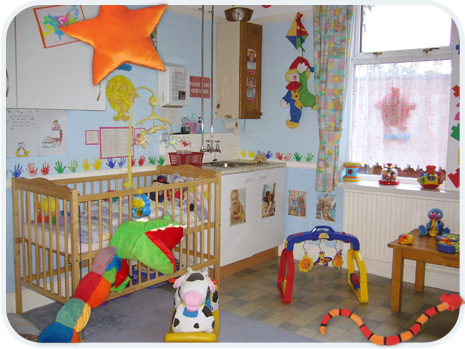 Our Baby Rooms
We have 2 rooms dedicated to babies (children aged 0-2) The rooms are split with varied activities throughout the day and we ensure all of the children are involved in activities in both rooms throughout the morning and afternoon sessions. We also ensure the younger children are engaged in outdoor activities with and our carers ensure clothing is weather appropriate for all seasons. Some of the activities we get up to in the baby room are:
Nappy art
Singing Nursery Rhymes (carers singing to children)
Hand and Feet Painting
Painting
Ball Pool
Outdoor play
Sensory play experiences
Music and Movement sessions
Photos of the children's activities are displayed throughout the baby rooms as well as being included in each child's individual tapestry account which is regularly updated and a good pathway for parent partnerships within the setting. The Red House team will regularly update parents on our children's development, achievement and general wellbeing with daily communication and parents meetings when possible. Children's work is displayed throughout the setting and is continually updated based on events in our world or through our children's interests. All children's work will be given to parents to enjoy at home. Some parents have told the team they have made a scrap book ready to give to their children when they reach 18. Although we have dedicated rooms and sessions for babies we also provide opportunities for them to mix with some of the toddlers. The babies are encouraged to observe and copy the positive behaviour of the toddler group. We also find this gradual involvement makes them ready to move up to the older groups when they are ready. We see children learning to stand, crawl and eventually walk in the baby room and we ensure the parents are the first to know as each giant step forward in their child's eye has been reached this will be done in lots of ways through photographs, online platforms and daily communication. We love to see our families happy. In the baby rooms we see children starting to communicate with each other (clearly in their own language) however parents are often convinced their child is in a full blown conversation with their friends when they see them, babbling to each other. This is amazing to see. Our carers encourage speech and we often see children referring to Mama and Dada at home time. We also see children thanking each other with a simple "tar" as toys are passed between children and some even make attempts at their carer's and friends names. We never see our role as taking over a parent and our carers are always happy to take instructions or suggestions from parents, to continue with the development of something a parent may have observed at home. Some of the comments we've recorded from parents talking to their child at pick up time include" "Wow, I bet that was nice and messy" "Have you been having fun with your friends?" "Have you drawn me a nice picture?" "I can tell you've had fun today, look at the state of you!" "I can't believe that's you in that picture on the wall" "I bet you loved that, he loves anything messy" "Can I have a look at what you've been doing?" "Whose are those little handprints on the wall?" and of course… "Have you missed me?" …and we're in no doubt that although we truly believe all the children fully enjoy themselves at The Red House they're always pleased to see mummy and daddy at home time.
---