Thursday, September 4th, 2008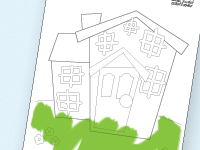 Download and print the Red House Nursery Colouring sheet.
Colour it with crayons, pencil, chalks or paint to create your own masterpiece.
Colouring Sheet – The Red House

To view the colouring you need to have Adobe Reader installed.  Don't worry its a free piece of widely used software and can be downloaded by following this link – Download Adobe Reader
Tuesday, September 2nd, 2008
You may have seen in the local press that we are open our doors on the Saturday 13th September.
Come and join in with our activities for children on the day, see our new facilities and learn about the new childcare curriculum. All of our staff will be on hand to answer any questions from parents and we have a range of activities for children to try on the day.
We look forward to seeing you.
Friday, August 29th, 2008
Our first blog post……
Welcome to the Red House Blog. We hope to keep you updated with our news and events on this page.
We hope you continue to visit us.